Massaro:

Frank Abbott was prominent
in history of Auraria campus
September 22, 2006
Rocky Mountain News
BOULDER - Frank Abbott was high on education.
He devoted his professional life to working for organizations that promoted and administered higher education. He was instrumental in forming the Colorado Community College system. And some called him the father of Auraria for his efforts in getting the combined campus going.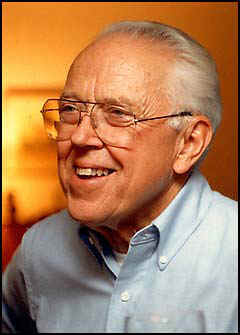 Frank Abbott, who was educated at Cornell and Harvard, worked in higher education administration and promotion.
He died Aug. 17 from an infection following skin cancer surgery. He was 85.
He was born Dec. 12, 1920, in Newtonville, Mass., to Clark and Erma Richardson Abbott.
His family moved to Cleveland when he was 9. After graduating high school, he enrolled at Cornell University, where he studied politics. He was also editor-in-chief of the school newspaper, The Cornell Daily Sun, which was billed as "Ithaca's only morning newspaper."
He graduated in 1942, then joined the Navy. He was a supply officer in World War II.
After the war, he returned to Cornell to work with Arthur Adams, who was provost.
"Arthur Adams was his mentor," said his wife, Lois.
He and Lois met on the Cornell campus. She was studying zoology. They were married Dec. 20, 1948, in East Williston, N.Y.
"He was very generous," she said. "He felt that women should have lives of their own. I was interested in zoology and biology. After the kids had grown, I went back to school and got my Ph.D. at CU and began working in research and teaching."
In 1949, Mr. Abbott went to Harvard to get his doctorate in political economy and government.
He worked for the American Council on Education after his coursework at Harvard.
In 1959, he became an assistant professor at Bucknell University, then moved to the University of Montana as an academic vice president.
At his funeral, one friend said: "He was really a Westerner. He just didn't know it."
In 1965, he came to Colorado to work as the director of the Colorado Commission on Higher Education.
"He wrote a history of Auraria," Lois said.
He left the Colorado commission in 1977 and moved to New York to work for the regents of the state of New York. In 1984, he returned to Colorado to work for the Western Interstate Commission on Higher Education.
"He really did work for higher education," Lois said. "He was really interested in how the state administers higher education. He was interested in government and how it works. He wasn't a wheeler-dealer. But he was pretty savvy about these things. He took a patient, persevering, long-term approach to making things work."
After retiring from WICHE in 1992, he still continued to work on behalf of higher education, coordinating a program that recruited and trained minorities to get advanced degrees and then teach in colleges.
It wasn't totally books and research for Mr. Abbott.
"One of his basic interests was vegetable gardening," Lois said. "He was always a gardener."
And not all his writing was for public consumption. He wrote his memoirs for his children.
Survivors include three sons, Curtis, of Menlo Park, Calif., Ken, of Asheville, N.C., and Paul, of Tucson; two daughters, Jane Krumm, of Twin Falls, Idaho, and Alison Quackenbush, of Framingham, Mass.; two sisters, Marjorie Peacher, of Hagerstown, Md., and Betty Goodenough, of Wallingford, Conn.; and 10 grandchildren.
http://www.rockymountainnews.com/drmn/news_columnists/article/0,1299,DRMN_86_5015206,00.html